Florist in Epsom - Same Day Flower Delivery in Epsom & Ewell
Mad Lilies is a local florist offering home flower delivery in Epsom, Ashtead and Ewell, making gift-giving easier than ever. Our talented florists pour their passion and creativity into designing signature bouquets for every different occasion. Choose from a beautiful collection of arrangements created with perfectly fresh seasonal flowers and foliage. Our stylish and on-trend approach to floristry is what sets us apart from your average flower shop in Surrey.
Gift Flowers For Delivery
Why choose Mad Lilies as your local florist in Epsom?
At Mad Lilies, we take pride in delivering exceptional quality in every floral arrangement we create. Our team of skilled florists and flower enthusiasts are passionate about crafting stunning arrangements for any occasion. Whether you're sending congratulations or sympathy, celebrating a special date, or just saying 'I Love You', our flowers always make a lasting impression.
We only use the best blooms of the season meaning you get the freshest, highest-grade flowers all year round. You can also choose to add chocolate, a luxury gift card or a hand-poured botanical candle to your order to make your gift extra special.
Bespoke designs, just for you.
We love that our flowers make people happy, so we don't just stop at what's available on our website. If you have a special request or a specific type of flower you'd like us to include in your bouquet, get in touch and we'll do our best to make it happen. 
Our love for originality and unique creativity is a key ingredient of every single arrangement, making Mad Lilies the number one choice for flower delivery in Epsom.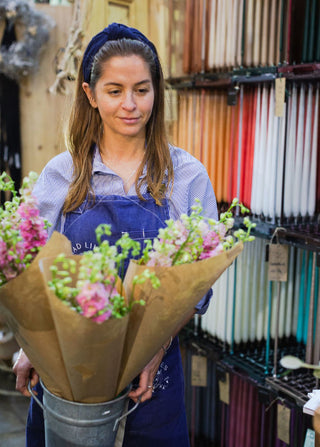 The freshest flowers from our place to yours, by hand.
We take pride in providing the freshest, highest-quality flowers. Whether you're looking for a stunning bouquet or show-stopping vase arrangement for a special someone, or just want to brighten up your home, we go above and beyond to make sure your flowers are truly special.
To that end, your Epsom flower delivery is only ever carried out by our own driver. Not by courier and never by post. It's the only way to guarantee your flowers arrive as fresh and beautiful as they were when they left the store.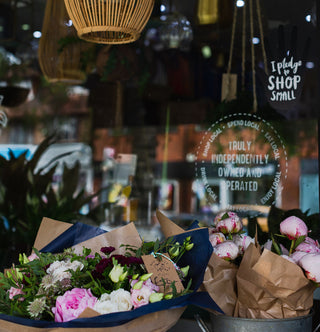 A Truly Local Business.
In 2021 we were honoured with the 'High Street Hero' award, sponsored by TSB, which recognises a small business that has a proven record of contributing towards the success of their local high street.
We are strong believers that In this day and age, it's more important than ever to support our local economies by choosing to shop local, over and above the large online retailers whose only objective is to take business away from the high street. We even wrote a blog about it, that if you have a few spare minutes is well worth a read.
Flower Delivery in Epsom
We deliver unique flower arrangements daily in Epsom, Ewell and Ashtead. Our arrangements are one of a kind and are created with our signature style that can't be replicated. Whether you're saying 'thank you', 'congratulations', 'condolences' or simply 'I'm thinking of you', our elegant bouquets are a perfect choice.
From elegant lilies and classic roses to seasonal eucalyptus and winterberries, our fresh flowers and foliage are hand cut and presented in stunning vases ready for delivery.
We offer a range of flower services around Epsom, including:
Every service is expertly managed so you get exactly what you want. We also offer bespoke flower arrangements if you don't see anything you like on our website. We work with you to create the best bouquet for yourself or a loved one, so we know you won't be disappointed.
Order Flowers Online
Our exceptional florists produce only the highest standards of bouquets and floral arrangements in Epsom. With our freshly delivered plants and flowers every day, you can be sure you only get the season's best blooms.
We are proud to offer reliable and respectful flower services near you. From bright and beautiful celebratory showstoppers to hand-tied garden-style bouquets, your flowers are taken care of right up until delivery. Our signature style creates unique arrangements that you won't find anywhere else. With every order, you can even choose to add delicious chocolates, hand-poured botanical candles and a luxury gift card to make your gift extra-special.
Mad Lilies flower arrangements look stunning in any home or business, so whether you're buying for yourself, a partner, a family member or a friend, we know our blooms will put a smile on every face.
Why Choose Mad Lilies?
Our dedicated team of florists and flower enthusiasts at Mad Lilies make this place a top choice for flowers delivered in Ashtead, Epsom and Ewell. Every bouquet is professionally arranged before arriving safely at your door with a hand-written card on the day that suits you.
Our Flowers are always fresh, always of the highest quality and always hand-delivered to: Ashtead | Cheam  | Tadworth | Sutton | Chipstead | Epsom | Purley | Kingswood | Coulsdon | Wallington | Dorking | Reigate and Oxshott