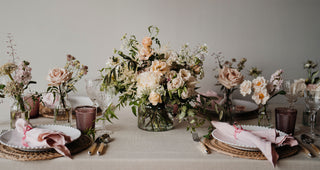 Exclusively Online
The Wedding Edit
Tailor-Made Online Wedding Flowers
This is an 'Edit' of our Bespoke Wedding Service, available for you to order online.
Our Wedding Edit is perfect for when you simply want a fixed price, easy-to-order option, but with the knowledge that your flowers will be designed for you by Mad Lilies artisan florists in our signature style of understated elegance and romance.
How Does It Work?
Before ordering please check:
Our availability for your date
That your venue is within our travel area if you wish us to deliver
You can do this via our Wedding Edit Contact Form at the bottom of the page, and we'll get back to you as soon as possible (usually within 48 hours).
The Wedding Edit FAQs Brochure will hopefully answer any questions you may have about this exclusively online service.

Important Information
Please make sure to familiarise yourself with The Wedding Edit process, before proceeding to order.
Colour Palettes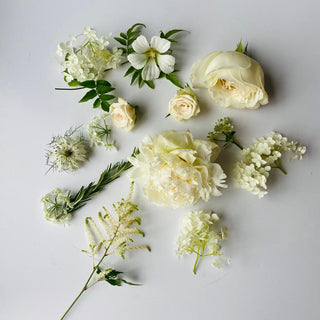 Shades of White
A modern-day classic design in a white and off-white colour palette teamed up with lush green foliage and textural elements.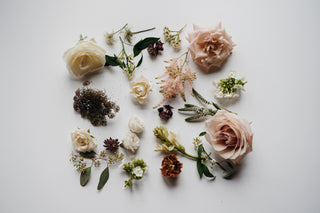 Bohemian Chic
Modern vibes that are utterly luxurious and 'Oh So Chic' are created using a colour palette of nudes, blush before finishing off with pops of mocha.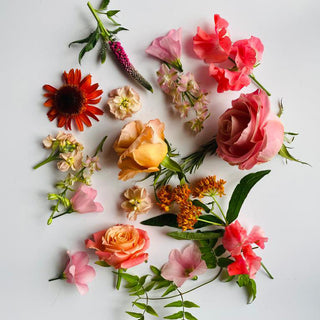 California Dreaming
A quintessentially summer colour palette that is sunshine-inspired with coral, apricot and dusky pink hues all playing together and full of cheer.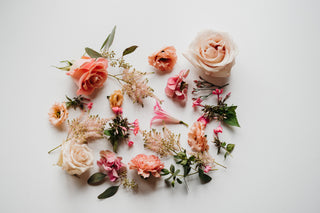 Pretty in Pink
The ultimate romantic colour palette of the prettiest shades of pink.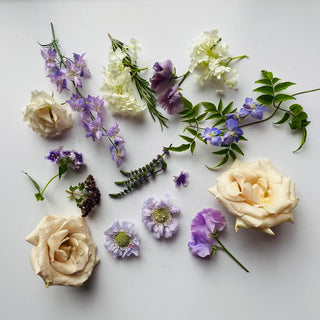 Lilac Haze
A gentle color palette of lilac & nudes for the perfect country garden styling.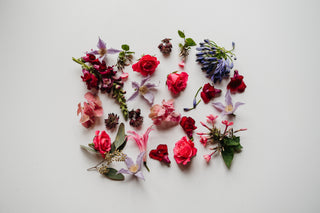 Elegant Jewels
A color palette embracing and layering the many shades of lilac, lavender, mauve and hot pinks to perfect regal effect.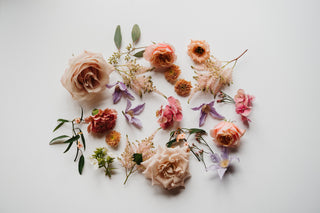 Blushing Pastels
A soft and gentle pastel colour palette of the palest of pinks, blues and apricot, echoing the season, beautifully.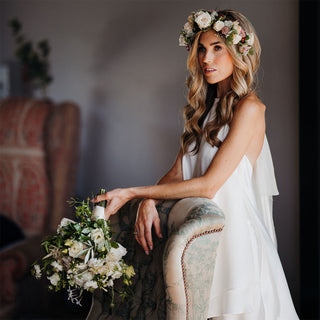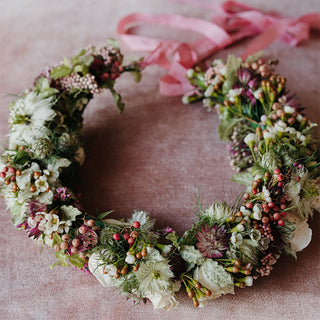 Personal Flowers
'WOW!' flowers, designed with textures and colour palettes inspired by the countryside and the ever-changing seasons.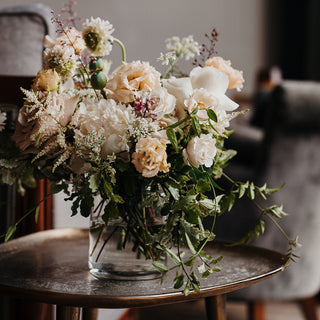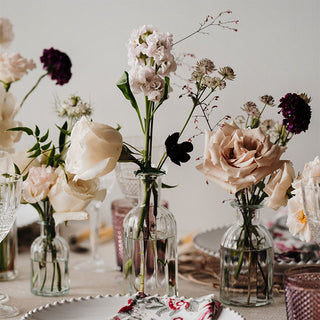 Reception & Ceremony Flowers
From stunning centrepieces to elegant ribbed bottles and taper candle hire. Everything you need to create a beautiful tablescape of your own design.